What is Argan Oil?
Argan Oil comes from the kernel of the Argan Tree (Argania Spinosa). This tree grows in Morocco, and sometimes Argan Oil is referred to as "Moroccan Oil".
Argan nuts are harvested mostly by women. The nuts are then roasted (in the same way as coffee or cocoa beans), and the oil is extracted from the kernel by grinding.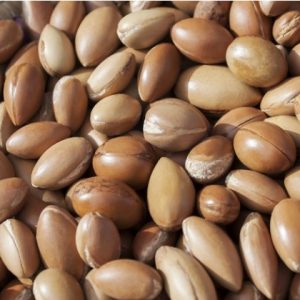 What are the benefits of Argan Oil for the Skin and Hair?
Argan Oil is rich in Omega 6 fatty acids. It is also very high in antioxidants and Vitamin E. It also has anti-inflammatory and certain anti-bacterial properties.
This makes Argan Oil effective in moisturizing the skin and preventing oxidative damage from the sun and free radicals.
It can also help slow signs of aging : Argan Oil helps keep skin supple and prevents premature skin drying and the premature appearance of wrinkles.
Argan Oil can help regulate oily and blemish prone skin. Although putting oil on oily and acne-prone skin seems counter-intuitive, sometimes what the skin needs is a protective barrier to help seal in natural moisture and prevent the skin from over-reacting to harsh pimple products by producing… more oil! Argan Oil is also considered a medium to light oil, and is more easily absorbed than say, Coconut Oil which is more adapted to dry skin.
Argan Oil can also be used on hair to help prevent and repair split ends, and overall to beautify dry, brittle or damaged hair. If your hair is on the oily side, apply Argan Oil to the tips (not the roots).
And last but not least, Argan Oil is great to repair damaged and brittle nails as well!
How to use Argan Oil on Skin and Hair?
To apply on skin, the best is to massage a few drops of Argan Oil into damp skin or damp hair. This will help lock in the moisture. You can also add a couple of drops to your favourite face or body lotion to give it an Argan Oil boost!
What is high quality Argan Oil?
The benefits of Argan Oil are well recognized now, as the many skin and hair products available on the market definitely show. With all these choices, how can you be sure you are buying a high quality oil?
Here are a few tips to help you shop for quality Argan Oil that will make a difference on your skin and hair.
Look for 100% Argan Oil
Argan Oil is expensive, and one way to make an oil cheaper is to dilute the oil with cheaper oils. To make the most out of Argan Oil's many beauty benefits, be sure to get 100% Argan Oil, oil that is not mixed with other cheaper oils.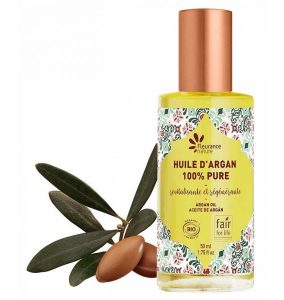 Buy Non-refined and non-deodorized Argan Oil
Skip any oil that's been heated or refined, and go for cold-pressed and non-deodorized Argan Oil that conserves more of its beneficial properties. How to know? Non-refined oil has a nutty smell and a rich gold colour. It may also say "cold-pressed", "non-deodorized" or "non-perfumed" on the packaging.
Skip the value-pack
Non-refined oil also spoils faster, so it is best to buy Argan Oil in bottle sizes that are adapted to your use and buy again when you're done. You may also want to buy Argan Oil that is protected from light: look out for tinted bottles or bottles packaged in boxes. Keeping sunlight out also helps to conserve Argan Oil's beauty benefits.
Go Organic
Argan Oil is extracted from the heart of the Argan fruit. The very high oil content of the kernels makes them sponges for absorbing anything that's used in cultivation. Conventional agriculture uses chemical pesticides and fertilizers that end up in the oil. Buying certified organic Argan Oil means such chemicals are not used. Less harmful chemicals is always better and choosing organic when possible is a sensible decision.
Buy Fair-Trade
In certain area of Morocco, the women producers are organized into Fair-Trade rural cooperatives. Buying Argan Oil from such cooperatives at a fair price helps support rural women's livelihoods. It also helps preserve Argan tree plantations. Desertification puts these plantations at risk, and planting more trees helps to stabilize the soil and slow desertification. Fair-Trade Argan Oil probably doesn't have a composition that's very different from non-Fair-Trade oil, however knowing that the women who make it feel empowered and able to sustain their communities and families most likely makes them happier. And happy people make happy oil!
We sell Fair-Trade and Organic Argan Oil and Hair Mask.
Read more about the Fair-Trade communities that are supported by Fleurance Nature Argan Oil.