Do you know the properties of Verbena, Almond and Rose in skincare?
Organic Tropical Verbena (also called Lemon Verbena) leaf extract is used for its anti-oxidant and energizing properties. The delicate lemon fragrance is also used for stress-reduction. Reach for the Tropical Verbena Hand Cream for an uplifting and zesty pick-me-up!
Organic sweet almond oil deeply hydrates and softens skin. Its high Vitamin A content is idea for fragile skin. Extra dry hands from all that washing? Reach for the soothing powers of Almond Hand Cream!
Organic Damask rose floral water is loved the world over for its delicate fragrance and skin toning and purifying properties. Reach for Rose Hand Cream for all-round hand care, especially in city environments and if your skin feels dull. And of course, for it's delicate rose fragrance!
Because great things come in small packages!
And now we've included 3 great things in one sweet organza pouch.
We're very excited to introduce Singapore to our Organic Hand Cream Trio Gift Set! The gift bundle contains 3 of our wonderfully scented hand creams from French brand Fleurance Nature, and come ready to gift in an organza pouch.
But first, here's our 3 x 30ml hand cream gift set (available in Singapore).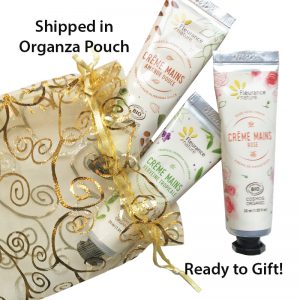 We're bundling up 3 of Fleurance Nature's most popular certified organic hand creams : Verbena, Almond, and of course, Rose.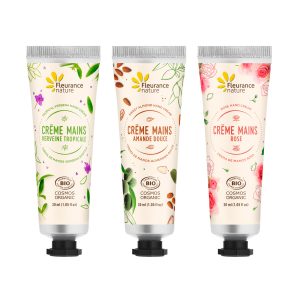 We also love the 30ml sizes : great for having at your desk, in the bathroom, kitchen, or purse.
So no matter what your mood is, this hand cream bundle has got you covered. Keep washing and hydrating those paws! Our hand creams are certified organic, made in France, and of course, cruelty-free. Slather up with goodness!