Lavender is such a powerful symbol of the South of France! Just a picture of lavender fields can bring instant relaxation.
But Lavender is more than just a pretty purple bush and wonderfully smelling plant. Lavender is therapeutic too, and has been used for thousands of years in the Mediterranean region.
Here are 3 great reasons to add Lavender skincare products to your beauty routine today.
1. Lavender relieves anxiety and promotes relaxation
If you are nervous or anxious, smelling Lavender flowers, Lavender essential oil, or using Lavender skincare can help. Also if you are prone to insomnia, Lavender products used before going to bed can help you sleep better!
Lavender is also known to relieve articulation and muscular pain, helping you relax even more.
Try our Organic Lavender Hand Cream before going to bed.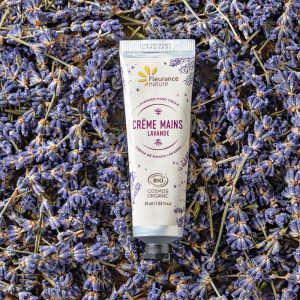 2. Lavender relieves mild skin conditions
Lavender can help relieve mild irritations due to eczema, acne, psoriasis and itchy skin.
Of course you'll want to choose products that contain REAL lavender, not just Lavender fragrance. Check the ingredient list! Our Lavender products all contain real Lavender Flower Water, obtained by steam distillation of Lavender flowers (Lavandula angustifolia, Lavandula officinale) from the Provence region in France.
3. Lavender just smells wonderful
The Ancient Romans and Medieval monks had it right. Just a whiff of this stuff and you're off to Provence!
Slather on our Lavender and Angelica Body Lotion for immediate relaxation. Hey who knows, you may even almost hear chirping cicadas!